Xavierians
[[Image: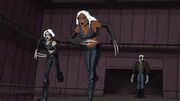 |200px|center|Xavierians]]
Origin
History
Xavierians are an alien humanoid race of being who originate on the planet Xavier. Xavierians are basically humans in their structure and appearance but have white hair, purple eyes and retractable bone claws. Their biology is far more advanced than that of Earth based humans where they are able to heal faster, stronger and have enhanced senses like sight, smell and hearing.
There is rare group of Xavierians are called Alpha Xavierians they have retractable bone claws that are made from an Organic Metal call Newrave. When they are exposure to solar radiation from a foreign star system, they gain Super speed, heat vision, x-ray vision, and super breath are among many Alpha Xavierian superpowers.
Culture
Xavierians are a highly technologically advanced people. Japanese and British-like imperial system. Language sound like a musical English, however written form is more little Japanese-like semantic and orthographic. Each Xavierian family, or what is called a "Clan," is represented by a crest or symbol, often worn by the head of the house.
Pre History
In prehistoric times, Xavierians were a primitive warlike race of clans that fought between itself. That was until their world was attacked by xenophobic aliens insectoid race called Progeny. With that event their world was change and they made jumps in tech and became one world lead by a Xavierian called Alpha Prime.
Powers and Abilities
Powers
See:
Abilities
Various

Average Strength level
An ordinary Xavierian can lift about 400 lbs. While not powered by foreign sunlight, Alpha Xavierians are physically stronger than ordinary xavierians, they can be and can lift about 800 lbs. When power by a star megaton to Multi-megaton range.

Weaknesses
Habitat
Habitat: Habitat of this race is unknown.
Gravity: Usually much higher than on Earth.
Atmosphere: Breathable to Xavierians
Population: Unknown
Miscellaneous
Type of Government:
Monarchy with elected council members.

Level of Technology: High
Cultural Traits: Cultural traits unknown.
Representatives:
See also: Category:Xavierian
Notes
Trivia
See Also
Links and References
Ad blocker interference detected!
Wikia is a free-to-use site that makes money from advertising. We have a modified experience for viewers using ad blockers

Wikia is not accessible if you've made further modifications. Remove the custom ad blocker rule(s) and the page will load as expected.