Xavier
[[File: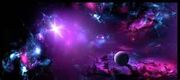 |200px|center|Xavier]]
Location Details
History
Xavier is a planet, located in the Circinus Galaxy which is thirteen million light years from the Milky Way. Xavier is home to a race called Xavierians.
Stars are Falling
Xavier became the target of a conquering race of aliens known as the Progeny. At this time Xavierians were primitive nomadic gatherer tribes who were pre Neolithic. They used their natural claws for tools and weapons. Fire was still new to them as a race.


Residents
See Also
Ad blocker interference detected!
Wikia is a free-to-use site that makes money from advertising. We have a modified experience for viewers using ad blockers

Wikia is not accessible if you've made further modifications. Remove the custom ad blocker rule(s) and the page will load as expected.