Stealth Fighter
[[Image: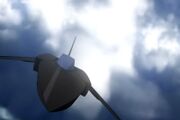 |200px|center|Stealth Fighter]]
Official Name
Stealth Fighter
Vehicle Details
History
The Batman of Osaka, Japan, has a personal stealth fighter plane in his arsenal. It can fire high caliber bullets capable of even temporarily neutralizing metahumans but the most unique feature is its chameleon circuit. Once activated, the jet becomes invisible and also it can be also be used underwater.
See Also
Links and References
Ad blocker interference detected!
Wikia is a free-to-use site that makes money from advertising. We have a modified experience for viewers using ad blockers

Wikia is not accessible if you've made further modifications. Remove the custom ad blocker rule(s) and the page will load as expected.