Sandra Labelle
[[Image:
|center|280px]]
Former Grand Duchess Sandra Una Labelle of Luxembourg is a fictional comic book character best known for being the wife of Harvey Dent and the mother of Shauna McShane. She grew up as the Grand Duchess of Luxembourg, a title she inherited from her father, but then renounced her throne and moved to Ireland to marry Dr. McShane.
Media Portrayals
Edit
This isn't about me, Bruce. This is about you. You... and your daughter.

--Sandra reveals to Bruce Wayne that she is the mother of his daughter, Shauna.
In "Beware the Batman", Sandra is voiced by Niamh Cusack. She plays a very minor role, only to serve as a semi-love interest of Bruce Wayne (the main one being Dr. Ava Kirk) and the mother of Shauna/Batkid. She is very faithful to her comic counterpart in that she's a very overprotective mother.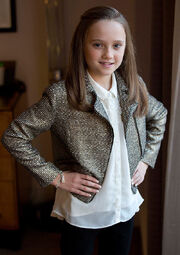 In the FOX television series "Gotham", Sandra is played by English actress Isabelle Allen. Unlike most iterations of the character, where Sandra is usually quiet and reserved, this Sandra is vocal about her complaints, sneaks out of the house whenever she can and insists that she's being smothered. Another difference between her and the traditional Sandra is her relationship with Bruce Wayne (David Mazouz). In "Gotham", Bruce thinks of Sandra more like a little sister than a crush, however, Sandra has a crush on him. "Gotham" is also the first to name Sandra's heart condition. Sandra has heart failure that arose from Mitrial Valve Regurgitation. Like in most other versions of her backstory, Sandra was born with blue baby syndrome and her older brother, Alphonse (Jack Gleeson), taunts her by leaving her toys in the coffin her parents planned to bury her in as an infant. Sandra has a long standing relationship with her older sister, Sharon (Saorise Ronan), and the two are very close. Sandra's parents, Naomi (Geraldine Sommerville) and Gaston (Jason Issaacs) are very overprotective, much to Sandra's vexing.
Ad blocker interference detected!
Wikia is a free-to-use site that makes money from advertising. We have a modified experience for viewers using ad blockers

Wikia is not accessible if you've made further modifications. Remove the custom ad blocker rule(s) and the page will load as expected.