Progeny
[[Image: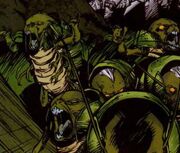 |200px|center|Progeny (Brig-verse)]]
Special Adaptations
Armor bodies
Unusual Features
two Antenna, no ears and Beetle-like.
Origin
Origin
One of the many alien races that live in the Circinus Galaxy.
Place of Birth
Circinus Galaxy
Place of Death
Circinus Galaxy
History
The Progeny is a Beetle-like race of aliens whose sole mission is to eradicate those they feel are 'impure' and unlike them. They once attacked Xavier to their dismay.
Powers and Abilities
Powers
Abilities
Average Strength level
Above human

Weaknesses
Habitat
Habitat: Habitat of this race is unknown.
Gravity: 3 times Earth's
Atmosphere: Atmosphere of this race is unknown.
Population: Population of this race is unknown.
Miscellaneous
Type of Government: Military, Tyrannical and Facist.
Level of Technology: High
Cultural Traits: War-like, Spartan
Representatives: No Known representatives.
Notes
Trivia
See Also
Links and References
Ad blocker interference detected!
Wikia is a free-to-use site that makes money from advertising. We have a modified experience for viewers using ad blockers

Wikia is not accessible if you've made further modifications. Remove the custom ad blocker rule(s) and the page will load as expected.