Characteristics
Status
Origin
History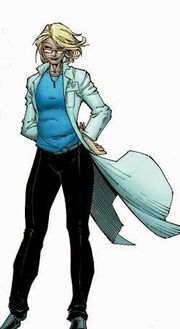 Patty is a Geneticist who by accident gave Flash his powers. She is a member of Team Flash, along with Wally West, Flash and dating Flash as the hero Hot Pursuit.
The Flash
Patty and Barry Allen are dating, they had been each other crushes from High School but never got together until they meet again after college. Patty became a leading Geneticists for Tech Symposium, she was working on new device she created called genome re-coder. With it she could repair damaged cells of Cancer patients.

Powers and Abilities
Powers
None known.

Abilities
Speed Force Knowledge: Patty was able to figure out how to steal speed from other speedsters, create constructs, and be in two places at once, all things that even Barry Allen couldn't figure out how to do at the time.

Strength level
Unknown.

Weaknesses
Power Loss:Without Flash or her Cosmic Motorcycle she has no superpowers.

Paraphernalia
Equipment:
Flash Ring:Nano-wear suit special made to stand hot and cold temps and bullet proofed. She is invisible to all forms of electronic detection.

Transportation: Flash Bike
Weapons:
Nightstick: It can steal the accelerated motion or momentum from objects or people to reduce their speed or even virtually stop them. Nightstick may also steal the speed from other Speedsters or other fast moving people and transfer it to Patty.

Notes
Trivia
=={{{CustomSection1}}}== }} {{#if: |

=={{{CustomSection2}}}== }}
See Also
Discover and Discuss
Links and References
---