Characteristics
Status
Occupation
Adventurer, Student (Currently attending Gotham University)
Education
Attending Gotham University
Origin
Origin
Along with Lukes Fox, Martin Washington also uses the "Batwing" mantle and was handpicked by
Batman
himself.
Major Story Arcs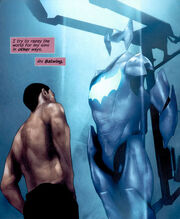 Batman decided to send Martin on a mission in which he stealthily takes down one Red Hood gang member and takes their signature red dome helmet.
Batman was right for having such high expectations of not only his crime-fighting ability, but his overall potential after checking in with Martin and finding out Martin has succeeded.

Powers and Abilities
Powers
None known.

Abilities
Deception: Martin is proficient enough to infiltrate the Red Hood Gang's increasingly growing crime empire so far undetected.
Strength level
Unknown.

Weaknesses
None known.

Paraphernalia
Equipment: None known.
Transportation: None known.
Weapons: None known.

Notes
Trivia
=={{{CustomSection1}}}== }} {{#if: |

=={{{CustomSection2}}}== }}
See Also
Discover and Discuss
Links and References
---