{{Character Template
| Image =
| RealName = Lucy Quinzel | CurrentAlias = | Aliases = | AlienRace = Human | Identity = Public | Alignment = Neutral | Affiliation = | Relatives = Joker (Father), Harley Quinn (Mother), Aunt Sherry, Uncle Derek, and her cousins | Universe = Quinnn-verse | BaseOfOperations =
| Gender = Female | Height = | Weight = | Eyes = Blue | Hair = Blonde | Hair2 = Red | UnusualFeatures =
| Citizenship = American | MaritalStatus = Single | Occupation = Student
| PlaceOfBirth = | Creators = User:LucyQuinnn | First = | Death =
| Quote = | Speaker = | QuoteSource =
| HistoryText =
Lucy Quinzel is the daughter of Harley Quinn and the Joker. Getting pregnant sometime in her career as a Gotham criminal before the Joker's attack on Superman, Harley went into hiding for a year, not wanting the Joker to discover he was a father. Leaving the newborn baby Lucy with her sister, Harley returned to Gotham only to realize that not only did the Joker not realize she was pregnant, he didn't even care to notice she left at all.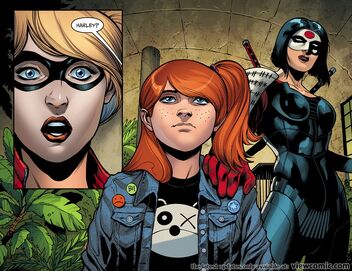 birthday = July 1st
hobby = putting tutu dresses on toy cars.
favorite food = unknown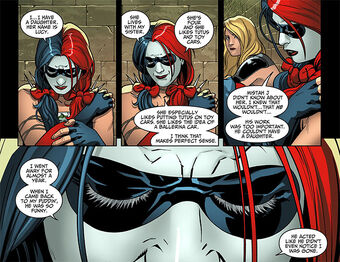 | Powers = | Abilities =
| Strength = | Weaknesses =

| Equipment = | Transportation = | Weapons =
| Notes =
| Trivia = | Recommended = | Links = |Distinguish1 =
Ad blocker interference detected!
Wikia is a free-to-use site that makes money from advertising. We have a modified experience for viewers using ad blockers

Wikia is not accessible if you've made further modifications. Remove the custom ad blocker rule(s) and the page will load as expected.