Lansinarians
[[Image: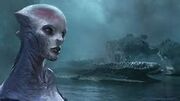 |200px|center|Lansinarians]]
Special Adaptations
Aquatic
Origin
History
The Lansinarians were Aquatic Humanoids, a scientifically advanced alien race. 100,000 years some Lansinarians crash land on Earth near an inhabited Island of Humans. The Lansinarians were able to fix most of their ship except for one part, that part was need to fly the ship in hyper-space. Ironically, that part won't exist on Earth until the 20 century.
Friends in need
The Lansinarians and Humans came to interact with each other in peace, when it was learned that the Island that the Humans (AT Tribe) was sinking. The Lansinarians help move them to their underwater Spaceship city. The Lansinarians also learned that they could no longer mate with each other while on Earth, something in the environment.
Becoming Atlanteans
The Human leader came up with an idea, because the Lansinarians had been good friends and saved them. They would return the favor. They would join races becoming one new race, Atlanteans were born. Only a few every 100 years would develop Earth aquatic Unusual Features. Example: Mermaids, Octo-people, Squid-people or Shark, dolphin or even whale. This mutation only seem to affect the royal bloodline.
Powers and Abilities
Powers
Abilities
Average Strength level
Unknown.

Weaknesses
Water Deprivation: Can't be out of water for long.

Habitat
Habitat: Habitat of this race is unknown.
Gravity: Gravity of this race is unknown.
Atmosphere: Atmosphere of this race is unknown.
Population: Population of this race is unknown.
Miscellaneous
Type of Government: Monarch
Level of Technology: Advanced well beyond the 21 century.
Cultural Traits: Cultural traits unknown.
Representatives:
Notes
Trivia
See Also
Links and References
Ad blocker interference detected!
Wikia is a free-to-use site that makes money from advertising. We have a modified experience for viewers using ad blockers

Wikia is not accessible if you've made further modifications. Remove the custom ad blocker rule(s) and the page will load as expected.