Infernoites
[[Image: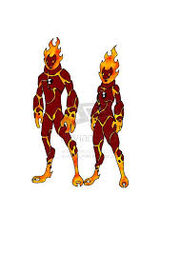 |200px|center|Infernoites]]
Special Adaptations
immune to fire
Origin
History
Infernoite are an alien humanoid race of beings who live on the planet, Holocaust. Infernoite look mostly human until they switch to their "True" forms, where they resemble a magma-based lifeform whose body is composed of a bright inner magma body covered by a dark red or brown rocks.
Powers and Abilities
Powers
Infernoite Physiology: Any healthy Infernoite male or female possess the following powers:
Abilities
Average Strength level
Unknown.

Weaknesses
None known.

Habitat
Habitat: Habitat of this race is unknown.
Gravity: Gravity of this race is unknown.
Atmosphere: Atmosphere of this race is unknown.
Population: Population of this race is unknown.
Miscellaneous
Type of Government: Government type unknown.
Level of Technology: Technology level unknown.
Cultural Traits: Cultural traits unknown.
Representatives:
See also: Category:Infernoite
Notes
Trivia
See Also
Links and References
Ad blocker interference detected!
Wikia is a free-to-use site that makes money from advertising. We have a modified experience for viewers using ad blockers

Wikia is not accessible if you've made further modifications. Remove the custom ad blocker rule(s) and the page will load as expected.