Haven
[[File: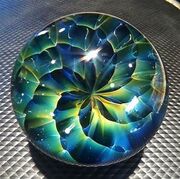 |200px|center|Haven]]
Location Details
History
Haven is the headquarters of the team Young Justice Beyond. Haven was constructed of a mix of promethium and Kryptium (Krypton's "strongest metal") used highly advanced Martian, Thanagarian, Kryptonian, and Earth technology added the technology of New Genesis and Apokolips; the Cooperative and the Guardians.
Haven exist in another dimension that exist in micro pocket universe located in a marble. The only way into the base is by YJB Time Ring which is keyed to Young Justice Beyond members's DNA and bio feedback.

See Also