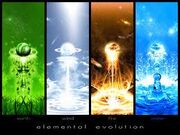 Elemental Control is the ability to conjure, create and/or control the elemental forces of the Earth. Certain characters with this power can generate it from themselves or from it's natural environment. Some characters are more specialized than others such as creating fire or ice, lightning or water, earth or air and/or other combinations.
See Also:
Ad blocker interference detected!
Wikia is a free-to-use site that makes money from advertising. We have a modified experience for viewers using ad blockers

Wikia is not accessible if you've made further modifications. Remove the custom ad blocker rule(s) and the page will load as expected.